Textile ERP Software | Vastra App For Textile And Garment Business
Textile ERP Software for textile and garment business . Vastra App is one of the best app for all textile and garment business. With our app you can manage inventory, stock, billing, catalog and much more. Try it now.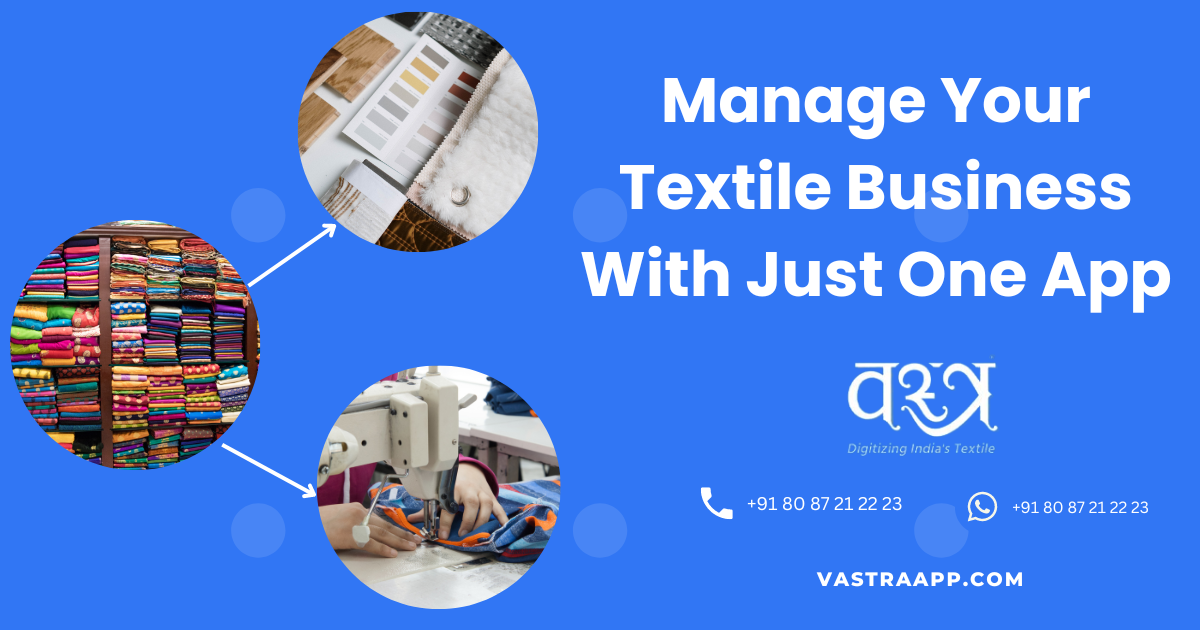 Textile ERP Software:
In today's industrial world of thriving technology, Enterprise Resource Planning (ERP) is the foremost passageway to parallel streaming almost every single activity in any apparel or manufacturing sector. Our textile ERP software is a computerised incorporated business application for textile units that systematically helps to perform a consequential task by managing your entire business production process effectively and efficiently with undivided attention to achieve the expansion of production all while smartly saving time and money. Most of the exasperating delays and concern of trivial errors are subsequently eradicated after the application of ERP software for textile and manufacturing processes. Automation intelligence put into practice for business development completely gives a turnaround to how the industry works; ERP not only provides a smooth workflow but is specifically designed to manage needs accurately.
Prime benefits of ERP Software
By implementing ERP software for textile or manufacturing industries, you are smartly eliminating the extra ongoing expenses and saving money as most parts of business errors or whatsoever related delays are completely erased.
ERP software expeditiously reduces the wastage of any raw materials, assists in the management of finance and inventory. Products of higher and better quality are more generally attained by using this.
Through ERP, you have an easy power in controlling the various end-to-end mills all entirely in different locations as it also allows an interconnected system of network for sectors for an easygoing and flawless communication.
An effective Enterprise Resource Planning (ERP) is programmed with the ability to forecast any extra market requirements established on historical and factual preserved data; which means that your business can beforehand prepare and ship needed products accurately and timely.
Textile Inventory Management Software
Inventory management, at its simplest explanation, is the key process of managing, tracking and maintaining an ideal inventory structure. This further enables to ensure that one is privileged to meticulously monitor and track all the recent inventory levels and would further be able to identify and coop up any extra or additional requirements of certain products when necessary. With the usual and very constant changes in stock levels as well as in supply and demand, the sole purpose of this software will help to guarantee assurance by preventing all the risks of any possible manual errors or problems and permit labour-saving by self operating any essential processes. With inventory management software, you are empowered to make strategic and effective decisions for your business based on the historical detailed information that will be easily available to you. With an improved and reliable decision making, it will help you understand and precisely plan out the future of your business through the help of technical automated knowledge. Having the power to easily and effectively trace any product at any given moment in one go oftentimes seems like a far fetched idea, but with the help of inventory management systems, you are assured to be provided a full and concentrated control of track and traceability of all your products.
Textile Billing Software
Textile billing software is furnished with a module that enables the handler to overlook and supervise the manufacturing or textile production's finances, accounting, purchases, payments, business's stocks and so on. Which means, this software allows the owner of the textile business or any operator to scrutinise and survey, gather data on the numbers of products sold, the supplier of products and the exact date of the purchase made from the supplier. It further allows you to track and oversee the products and all services that your consumers use. A billing software system can come in incredibly useful and necessary for textile units to process automated payment transactions quickly and accurately, while additionally allowing companies to manage their manufacturing operations as well as their supply chain. Textile businesses in general find it easier and more convenient to use a billing software system for a smart business move as it is smooth and trouble-free in charging their customers for any services and products that they have received. Furthermore, billing software systems assists businesses to maintain their marketing actions and moreover collect useful consumer feedback and put it in utilisation to improve and enhance their services. Through the implementation of billing software systems, textile companies and businesses can always stand tall and front of the marketing and production department to ensure to their consumers that they are being provided completely with the best of products and services.
Design and Catalog Management Software:
Catalog management is a crucial constituent of any online business as it comes in extremely handy for when customers are browsing what they are specifically searching for and are more at ease making a purchase with the established ground of information of the product provided to them. It assists merchants into maintaining catalogs for various consumers across numerous administrations. Design and Catalog management software or a product catalog management collects and maintains a comprehensive database of products and catalogue in an organised and structured format for customers and organisation partners in order to assist them to understand the benefits of products. In general, a catalog provides a specified and detailed overview or information of product prices, performance, and functionality. In simpler terms, it processes and organises all of e-commerce product data into one single convenient database. Catalog management is considered to be the bedrock of your business. It assures the product statistic precision across all sales channels. The whole database of the product such as the product's description, product's pricing, the product's hierarchy, its supplier etc. is well maintained in the latest configuration as per the requirements of the buyer's format. Product catalog for online businesses basically includes detailed descriptions and information the product and its account such as prices, sizes, fabric/materials, different colour choices and much more. Try our free tool to generate GST invoice.
Question :
Q. Is Vastra app Textile Billing Software free?
A. Vastra app gives a full trial liberty of a free demonstration to its users for a helpful and effective information analysis on how exactly the app works. To further enjoy the full fledged benefits, latest features, and functionality of various unique and up-to-date tools and services on the application, there are incredibly flexible pricing options and package deals available at the app store. Download now and try it for free.